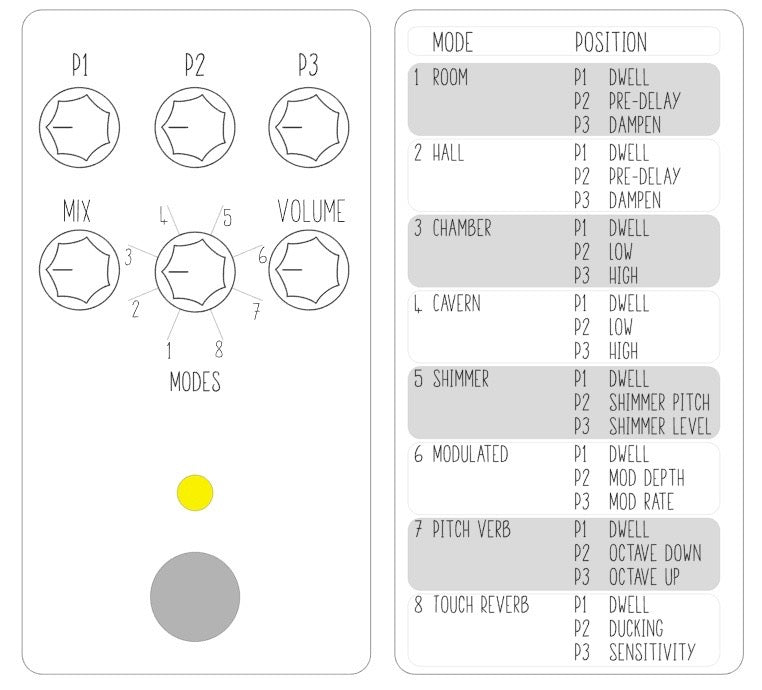 Berry-Verb V2 - 8-Mode Reverb
Pickup available at GUP Tech shop
Usually ready in 24 hours
Berry-Verb V2 - 8-Mode Reverb
Pink
GUP Tech shop
Pickup available, usually ready in 24 hours
947 Rue de la Moisson
Laterrière QC G7N 0C2
Canada
+14188174291
In stock
We've tried a couple of Reverb circuit/method and we always come back to our BerryVerb. It's the only true Reverb pedal in the GUP Tech catalogue. Made from the same FV-1 DSP chip as our Widow, the BerryVerb is loaded with 8 different modes, paired with their own controls (tagged as P1-2-3). 

The Mix knob allows a 100% wet signal and the Reverb parameters are adjusted with the "P1", "P2" and "P3" knobs.
Output signal can be boosted up to 5 dB with the "volume" knob.
Power consumption : 63mA

Voltage : 9Vdc Center Negative
Gorgeous sounds
Pure bliss, this pedal has so many options, just the way I like them, and all of them are totally usable and sound beautiful.
Bien du plaisir!
Beaucoup de fonctionnalités. Très versatile. Ça va prendre un temps pour venir à bout de la connaître en profondeur mais déjà j'ai trouvé pas mal de settings trrrès intéressants, autant dans l'intensité que la subtilité. Au plaisir!
Berry Nice!
When I bought this pedal it was actually for a backup to my Digitech Supernatural. First of all, the supernatural is known for being a great reverb pedal. Many functions and sounds that have endless possibilities. The technology was a collection with Lexicon and Digitech, resulting in a reverb with great modulation effects. When I saw this pedal, I was like "This looks like it offers what the Supernatural has". Let me tell you guys... This is spot on. The reverb on here is amazing sounding. The different modes are very identical and offer the same modulated effects. And crazy enough, this pedal is actually lighter than my Digitech! Not to mention the Berryverb is about 1/3rd the price of the Digitech. I ordered the green color, and it's very vibrant. I love that it stands out on my board. Overall, the Berryverb is great.
Awesome Reverb Pedal
I haven't even begun to find all the ways I can use this reverb pedal. I was looking for something with a lot of tweak-ability, so that I could try lots of different kinds of reverb, and this does the job. And, as usual, the build quality is excellent. My only concern is that my reverb-happy friend will steal it from me if I take it over to his place to play…