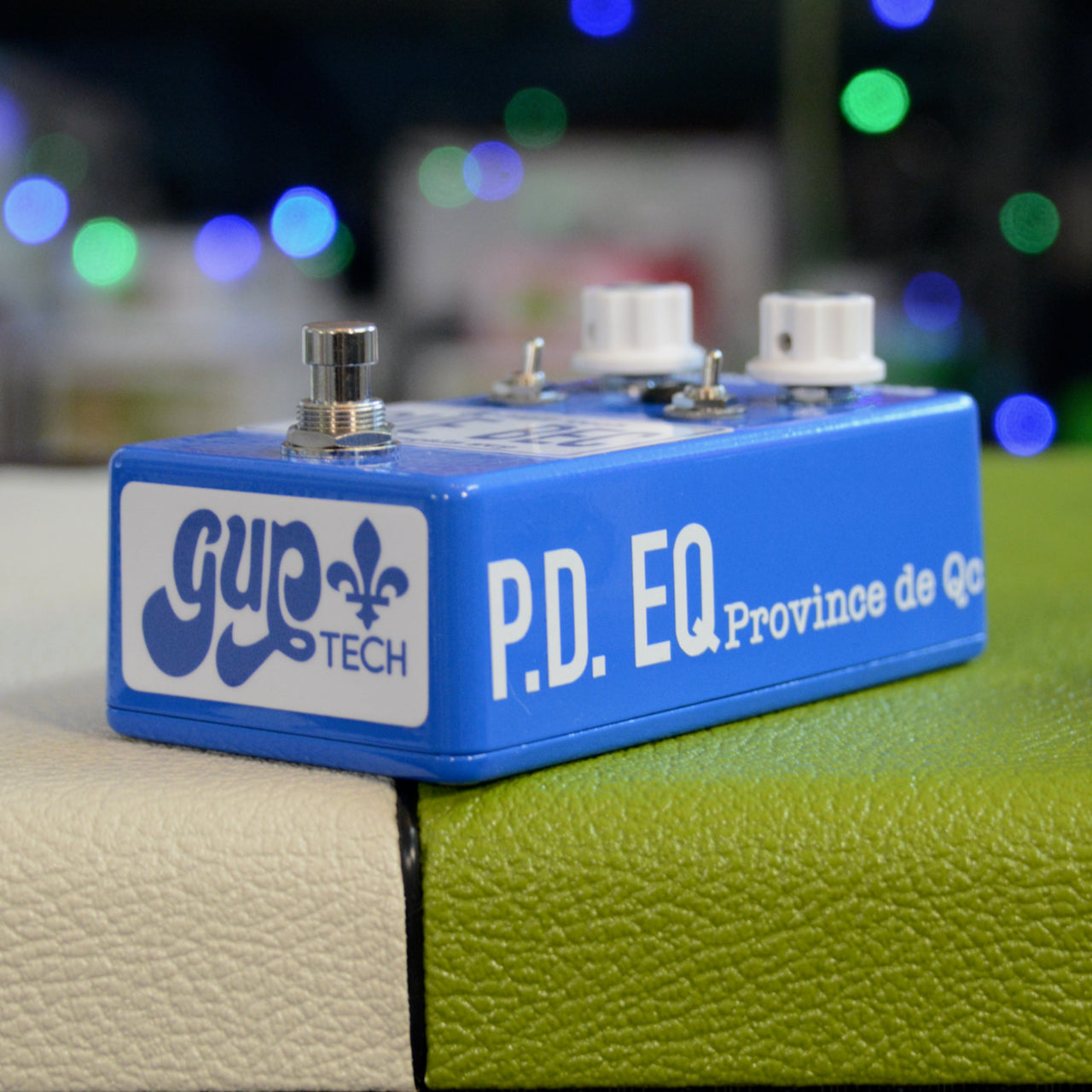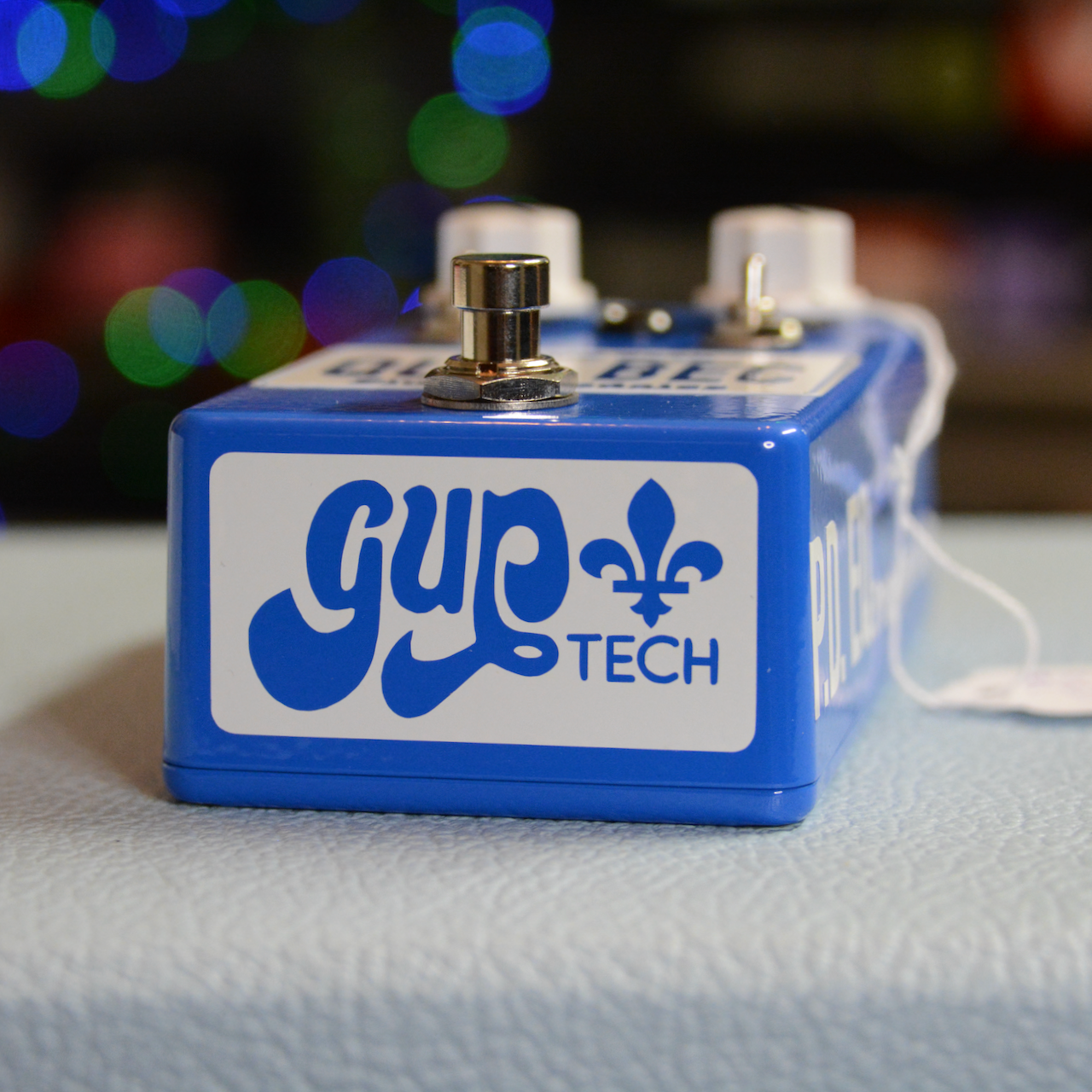 PdeQ - Presence Depth Quebec EQ
Pickup available at GUP Tech shop
Usually ready in 24 hours
PdeQ - Presence Depth Quebec EQ
GUP Tech shop
Pickup available, usually ready in 24 hours
947 Rue de la Moisson
Laterrière QC G7N 0C2
Canada
+14188174291
In stock
The "Province DE Quebec" is a new EQ from GUP Tech. But it's not just another EQ, here's a pedal to emulate the effect of the Presence and Resonance/Depth tone on your amp.
It's a game changer if your amp doesn't come with a Presence/Resonance(depth) knobs and you play chugging metal tones. This, at the end of your loop, just before the return, will give the extra OOOMMMPHHH and push to get out in the mix and hear yourself better.
There's other options out there, but the Amptweaker DepthFinder is pretty hard to find (here in Canada).
Simple Presence (with on-off toggle) and Depth (with on-off toggle) controls. With both toggles Off, the pedal will act like a buffer. This pedal can compete in the Amptweaker Depth Finder range.
If you'd like a more sparkling enclosure, have a look at the PdeQ Douche Edition
Power consumption : 20mA
Voltage : 9Vdc center negative
Design note : Il faut assurément adresser le fait que cette pédale arbore les couleurs des plaques d'immatriculation du Québec, ainsi que la fleur de lys sur le logo. D'un bleu pétant, en contraste avec le blanc, le rappel au drapeau du Québec est également très remarquable.
For our English friends, we need to explain that this pedal is a proud banner of the Quebec (Canada province) flag and license plates. The PdeQ is our hommage to our hometown province, just like the Ottawa-Wah is an hommage to our country.
Absolute game changer
I've seen a lot of different reviews that claim "ultimate this..." or "gamechanger that", and always took that with a grain of salt, because you know what opinions are like, right? This pedal was no exception. I've read the reviews, watched all the YouTube videos, and they all claimed greatness. Well, I needed something to give my Marshall MG100 a good hard kick in the balls, and all the reviews said this pedal could do it. Within minutes of opening the box, it was plugged into the effects loop, and it only took a few seconds to realize... for once, all the reviews were right! I never really understood the "blanket over the speakers" sound that I had heard so much about. Until now. This is definitely an always on pedal for me. If you have a solid state amp (or any amp for that matter) with limited shaping abilities, do yourself a favor and try this. It costs significantly less than a new amp, and will wake your amp up out of that hangover-like fog and breathe new life into it.
WOW !
Made my high gain and vintage amps feel more tight and responsive without degrading the natural tone, very highly recommended , great company to deal with. Extremely fast delivery to Australia and for a great price!
Takes the blanket off
I have a handful of preamp pedals that have always sounded muddy when run into the fx return of my amps that don't have presence or depth knobs in the power amp section. This incredible tool has made these previously unusable pedals sound like the best weapons in my tone arsenal. This will never leave my fx loop. A truly invaluable pedal that I can't thank GUP Tech enough for. Get one immediately.
Amazing
It brought my Mesa Badlander to life. Highly recommended for anyone struggling to get their amp where they want it.
Res pres and metal
Couldn't find the Amptweaker res pres pedal until I stumbled apon this gem. Got the pedal for my Joyo Bantamp Zombie, Firebrand and distortion pedals. It does the job, I was a little skeptical but it gives me the extra control for my tone I desperately needed. I don't understand why there isn't more res pres pedals on the market but thankfully there's least one, guptech stepped up to the plate.